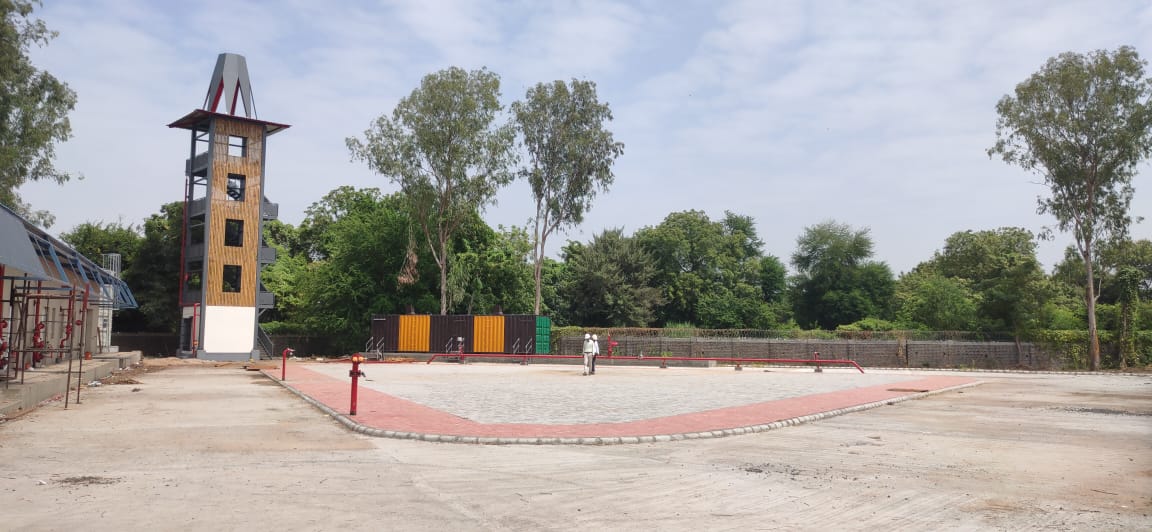 GSFC University has also developed Centre of Excellence (CoE) in F&EHS namely "FirePlex / Agni Sankul" over a piece of land admeasuring about 2870 sq mt. at the cost of about 2.5 crore rupees for imparting practical training and live demonstration in the area of Fire prevention, Fire protection, Firefighting and Rescue Techniques. Further training in the area of Occupational Health, Safety will also be done in the FirePlex The objective of developing "FirePlex / Agni Sankul" is to provide State of Art Training to the Professionals and Students. The AAAG India Shah Bhogilal Jetalal & Bros has contributed more than 1 crore rupees in the name of well known senior most Fire Professional in the country and pioneering figure in Industrial Fire Safety Mr. DD Purandare. Further the FirePlex is approved training institute under Section 111A of Factory Act 1948 by Director of Industrial Safety & Health (DISH), GoG. Approval No:DISH/ A-LAW/2023/603 Dtd 18.04.2023.
Objectives
To develop FIREPLEX as a unique place of state of art practical training and education in F & EHS in cost effective manner with generation of revenue.
To impart training in Fire protection, Firefighting and rescue using state of the art facilities.
To create a sense of awareness among surrounding industrial community and citizens in the area of Fire & EHS.
To develop students ready to serve industries, institutions & Organizations.
USPs
State of Art Training facilities in Fire prevention, Fire protection, Fire Fighting and rescue.
First of its' kind facility for practical training of Fire Fighting & EHS in Gujarat.
State of the art infrastructure at COE coupled with well-equipped Fire & EHS laboratories At single location.
Practical& Collaborative Learning.
Campus with superior in house experts.
Patronage by GSFC Ltd.
Single location for practical test platform of F&EHS candidates for International recruiters.
Beneficiaries
Chemical/petrochemical/Pharmaceutical, steel industries within and outside Vadodara (Inclusive of OIECR members)
City Fire brigades of Gujarat
Hospitals/Hotels
Airport
Railways
Education institutes
Malls & high rise shopping centers (Commercial buildings)
High rise residential buildings/apartments
Google Maps
Address
"FirePlex", Center of Excellence, Dashrath Karachiya Road, Nr. GSFC University Main Gate, Vadodara - 391750, Gujarat, India
Email Us
advisior@gsfcuniversity.ac.in
a.srikrishnan@gsfcuniversity.ac.in
fireplex@gsfcuniversity.ac.in